We own $30M+ of cranes — more than any other builder in Australia.
Our fleet includes electric and diesel luffing, flat top, hammerhead, and mobile cranes, providing a range of options for even the most complex projects. Each of our cranes has been carefully selected for their speed and lifting capacities. Several of our tower cranes have been constructed in Australia to meet Hutchies' specific requirements. All cranes are meticulously maintained and fitted with the latest safety gear.
#Non-Luffing Cranes
Non-luffing cranes, like hammerhead or flat top cranes, offer a better freestand capability than their luffing cousins. A non-luffer has greater free-stand for early construction activity before the need to tie into the structure as the building advances. It simply requires extra towers to raise the height. This can save time and resources in constrained programs.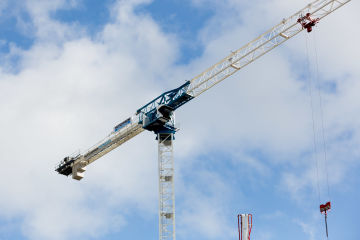 Terex Comedil
Flexible, reliable, and technologically advanced, the Comedil CTT331 is ideal for multi-crane sites with a large footprint. It has a maximum lifting capacity of 16t, with 2.9t capacity when extended to its maximum length radius of 75m. It doesn't require tie-bars, which allows for quicker and safer erection in a smaller space, and can freestand up to 96m without tying in to the structure.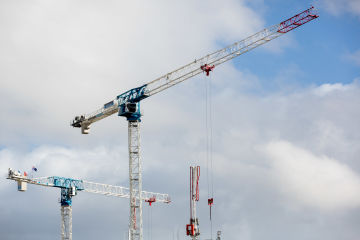 Terex Comedil
Stable mate of the Comedil CTT331, the CTT561 has similar features in terms of flexibility and suitability for larger sites, with the added bonus of a greater capacity. It has a maximum jib radius of 84m, and maximum load of 24t (2.1t at the tip).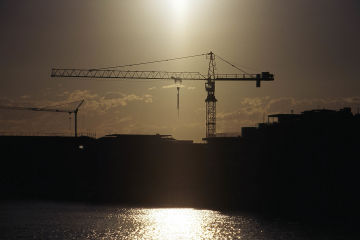 Liebherr
Liebherr cranes have an unmistakable silhouette. Hutchies' EC-H is a mid-range lifter and is suitable for large projects, which can take advantage of the long jib length and wide swing radius.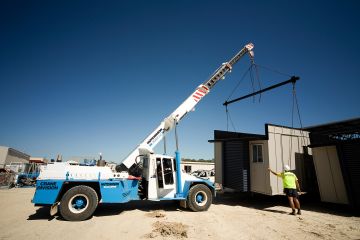 Terex
The Australian made Franna crane is ideally suited to our environment and offers multi-purpose capability. Hutchies maintains two 25t and on 18t model of these non-slewing mobile cranes. Frannas can pick-and-carry a load, placing it wherever required. They are regularly used to assist with the positioning of precast concrete panels, tailing them up to help the tower crane lift them off the delivery truck and into place. Frannas are also used in the erection and dismantle of tower cranes.
#Recovery & Self Erector Cranes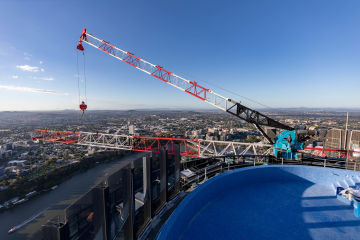 Terex
With a 30m jib and lifting capacity up to 16t, this specialised recovery crane is an ideal solution for dismantling internal climbing cranes. Once the Terex CDK100 has dismantled the larger crane, it in turn is disassembled by a small stiff leg crane which can then be dismantled and transported via building lifts.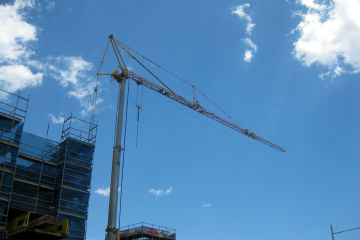 Potain by Manitowoc
Part of the range of self-erecting cranes from Potain this model has a tower height of 34m and maximum radius of 45m. It has a lift capacity of 6t and has three different mast heights and 10 different jib configurations, offering excellent flexibility. The Potain HDT80 is the largest self-erecting crane available on the market and can service up to eight storeys.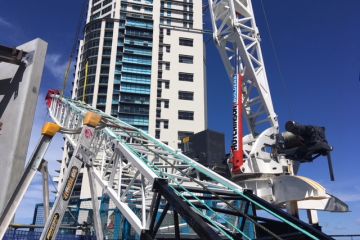 A&K
Hutchies' A&K recovery crane has a lifting capacity of 3t at all radiuses with a boom length of up to 19.5m. This style of crane has been used in complex recovery operations, including Brisbane Skytower, where it was to remove Hutchies' non-luffing crane on level 90.